Heather Reu, 42, together with her husband Phil, parented four beautiful adopted children, ages three through seven. She was an active member of her church, supporter of many charitable endeavors and a ready volunteer worker for many causes. She was also a triathlete and frequently did her bicycle training near their house on Albuquerque's west side. On June 23, 2009 she was out for just such a training ride, proceeding lawfully, northbound on Paseo del Volcan. A vehicle driven by Daniel Gomez-Rubio, 40, struck her from behind. Heather died at the scene.
Gomez-Rubio attempted to flee the scene, but witnesses stopped him from leaving and he was arrested. Bernalillo County Sheriff's Sgt. Brian Lindley said, "The tire of the vehicle Gomez was driving briefly left the roadway moments before he struck Reu.
Gomez-Rubio told investigators he "looked down to pick up his cell phone, which had fallen to the seat."
Because Gomez-Rubio was not found to be under the influence of drugs or alcohol (DUI), the only other charge available under current New Mexico law that would have addressed Heather Reu's death was Vehicular Homicide (Reckless). However the Grand Jury did not find that Gomez-Rubio's actions met the definition of "reckless driving." The most severe charge against Gomez-Rubio was for leaving the scene of a crash that caused great bodily harm or death. There were three additional misdemeanor charges, careless driving, possession of drug paraphernalia and driving with a suspended or revoked license.
Gomez-Rubio was eventually found guilty of leaving the scene of a crash that caused great bodily harm or death while the other charges were suspended in an agreement. The three year jail term of his sentence was reduced to 18 months, with another 18 months of supervised probation
Gomez-Rubio was not penalized for the actions that led to the death of Heather Reu.
If he had not fled the scene, his penalties would probably not have included jail time.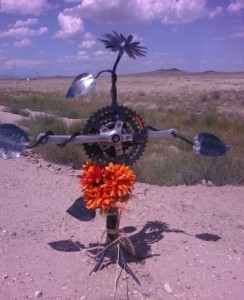 This is exactly the type of case for which we want better legal redress; cases where a road user is left dead or suffers great bodily harm at the hand of another road user who's actions reflect "careless driving" (66-8-114) rather than "reckless driving" (66-8-113).