Registration GRAN FONDO [TAOS, MORA, ANGEL FIRE]

Benefits Taos Sports Alliance; bringing sporting activities to the youth of Taos county.
No USAC racing or one-day license is required for this event.
Check out the illustrated GFTMAF poem below!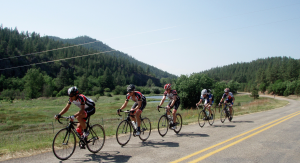 September twenty two
the beauty of the day will be up for review.
Eight AM is the time to bid adieu
and begin the journey to Sipapu.
A stunning valley will bring you through
to summit @ Holman Hill; highest point of the day, fantastic view.
Then plunge down, down, down to Mora, while looking to
Highway 434, which has steep hills, it's true.
But the 434 also boasts Guadalupita and Angle Fire venues
which will be stocked with water, food and goo, just for you.
Summit Palo Flechado Pass, feeling that was more than Category two!
then onward towards Taos throwing off the elevation, so difficult to accrue.
Fifteen miles on, don't miss the clue
for Highway 585, the finishing avenue.
Later, head to Taos Mesa Brewing for a brew, and something to chew
for cyclists, and their friends too.