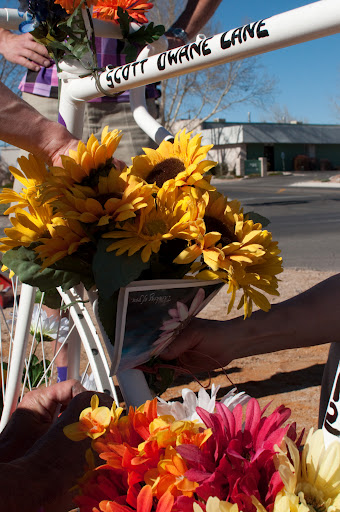 Dwane Lane was riding his bicycle home from work on January 10, 2012 when Carol Svinarich ran a red light, killing Lane. He is survived by his wife Sheryl Kearby and four children. Lane was a family man, Scout leader, business man and well respected community member.
After nearly a month of investigation, Svinarich was charged with the maximum charge under curent New Mexico law, which is the misdemeanor charge of careless driving. This charge can result in a penalty of up to $300 dollars in fines and/or 90 days probation or jail time.
"It's probably a good day for her. You know, 90 days is nothing, I'd be happy," Sheryl Kearby, Lane's widow, told KRQE News 13.
Duke City Wheelmen Foundation was able to assist the Lane family by placing a ghost bike at the site of the crash on March 23, 2012.
Another man riding a bicycle was also hit in Albuquerque on January 13, 2012. This man, later identified as Michael Ryan, died a few days later from his injuries. Ryan was thought to be a homeless individual. Unlike Lane, Ryan was riding improperly, crossing Lomas on a red light when hit. All cyclists' are well served by riding with traffic and following all traffic rules, just as we expect from any vehicle on the road.
Everyone is safer when we all follow the rules.