On Friday evening Duke City Wheelmen will place a ghost bike for Michael Wolff. He was hit while cycling on June 6, 2014 and passed away due to the injuries he sustained on June 14, 2014.
The ghost bike will be dedicated at 6:30 pm. This is the same time, and day of the week, that Michael was hit.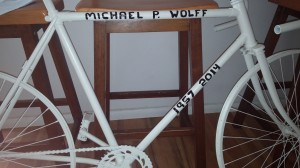 The family extends an open invitation to cyclists, and people concerned about traffic safety in general, to come to this ghost bike installation.
The driver of the car who hit Wolff fled the scene after the crash. Due to the diligence of Bernalillo County Sheriff's Officers, 21 year-old Shilo Sap has been identified as the driver of the vehicle that hit Wolff. Sap has been arrested and charged with leaving the scene of an accident resulting in great bodily harm/fatality and careless driving.
Michael Wolff's ghost bike will be the 30th that Duke City Wheelmen have placed in New Mexico for cyclists who have died while riding, from as long ago as 1984.
Directions:
The bike will be placed near a small memorial already at the crash site, in a location visible from the road. Sandia Trailer Sales & Service, 1435 HWY 333/Route 66, is a landmark close to where the crash occurred. The owners of East Mountain Dance, 1427 HWY 333/Route 66, have opened their parking lot to those driving to the dedication. To get to the site, take I-40 east bound from Albuquerque. Exit I-40 for NM-333 toward Sedillo, exit number 181. The ghost bike installation site is about 2.5 miles east of the I-40 exit #181.