Events of Duke City Wheelmen start in April, on the 13th with the first of six bike handling skills clinics.  The skills presented are of special use if you are at all interested in group rides and/or doing bicycle races, but they are useful every time you ride.  Check out the whole story here: Criterium Skills Clinics.
As the skills clinics continue (4/13, 4/27, 5/12, 5/18, 6/1, 6/1) we are planning a special recognition of the women who come out for the clinic on May 12th in conjunction with Cyclo Femme's "We Ride Together."  This day, Mother's Day, is being recognized as a time when women can come together, ride a bicycle and celebrate all that women add to the world.
On June 15 DCW is assisting Scalo Veloce who is hosting a bicycle race, a Criterium. 
   If you have never seen this kind of race, come out and see what it is all about.  Racing starts at 8 am and continues to about 2 pm.
If you are interested in trying your wheels in an event like this, the Criterium Skills Clinics will get you ready.
The criterium at Wilson Stadium will have beginner categories for men and women.  Juniors will also have their own race.
In July, during the long 4th of July weekend, there will be a timed version of a bicycle tour, a Gran Fondo, with its start/finish in scenic Taos, NM.  Traveling the South Enchanted Circle, this ride will enchant you.  There are three distances to choose from.  People who register can also access a discounted training plan tailored to their distance to help them prepare.
September will bring us "Can You See Us NOW?" on September 29th.
We will be starting this 5th Annual bicycle ride and rally an hour earlier, at 3 pm this year.  In honor of
"Helmets from Javi" is a helmet drive for children that honors Javier Garcia.
Because of this new partnership, we wanted to have more time at the park for food and music from
.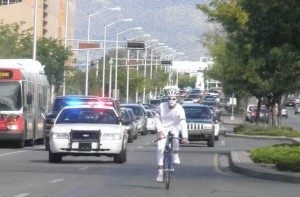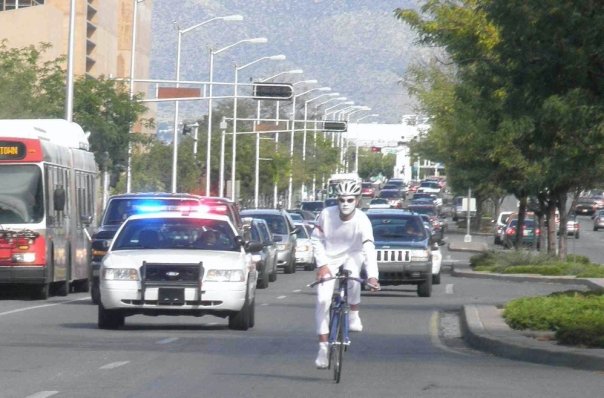 So, plan on joining us between 1 and 2:30 pm for registration so you are ready to roll at 3:00pm.  This will again be a slow parade ride down Route 66 (Central Ave.) with police escort.
This year, we are encouraging all ghost riders to join us!
On October 5, 2013 the Gila Monster Challenge Gran Fondo will take place in the Silver City area.  This ride will wind its way through spectacular southwestern NM mountains and valleys.  With four distances to choose from, everyone can find their challenge.