Join us January 27th in Santa Fe, at the Nation's only round State House for this safe street and highway advocacy event!
The event is FREE
For lunch at NM Bike-N-Sport or Railrunner fare,
please let us know you are coming
<RSVP@BikeABQ.org>
This annual event draws attention to bicycle and motorcycle safety on NM streets and highways. The New Mexico Motorcyclist Right Organization is the main event sponsor. Cyclists are encouraged to attend!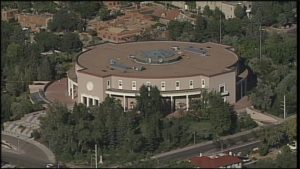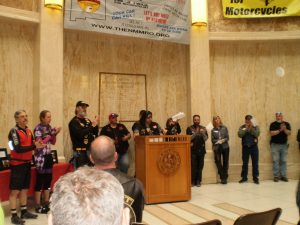 All types of alternative vehicles face the same problems on the road: Car and truck drivers don't see us. On Saturday, January 27, 1:00PM at the State Capitol, add your voice to the call for improved road safety.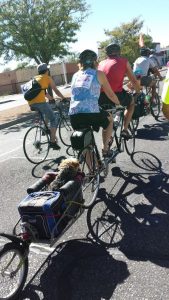 Duke City Wheelmen, BikeABQ & Bicycle Coalition of New Mexico are joining with NM Bike-N-Sport to provide transportation support and LUNCH for cyclists. Motorcyclists will meet for lunch at Santa Fe Harley Davidson.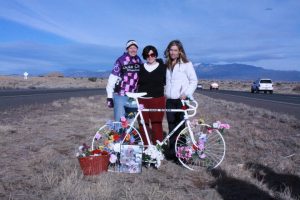 8:15 am – Downtown Railrunner Station: Ride Railrunner to Santa Fe <email: RSVP@BikeABQ.org> to have the fare paid!!
9:30 am – Thunderbird Harley-Davidson (5000 Alameda NE): Motorcyclists will meet to ride to the rally, stopping for lunch at Santa Fe Harley-Davidson (4360 Rodeo Road). Motorcyclists will leave Santa Fe Harley at 12:15 to ride to the Capitol.
11:00 am – NM Bike N Sport (504 W Cordova Rd): Bicyclists meet for LUNCH and then walk or cycle to the New Mexico State Capitol Building (bring a bike lock – No bicycles in the Capitol)
1:00 pm – New Mexico State Capitol Building (490 Old Santa Fe Trail): The rally will pay tribute to 2017 victims of crashes who were motorcycling or bicycling in New Mexico. Ongoing advocacy efforts to improve road safety will be highlighted.